1• Problem / question client
We support the Fürstenberg Brewery, which is part of the Paulaner Group, in all digital activities on their marketing calendar: from loyalty and design editions to live experiences as well as product testing campaigns and other point-of-sale promotions that we synchronize with digital communication, for demonstrable image and sales effects.
Fürstenberg connects and inspires people in southern Baden-Württemberg. The staging of the regional lifestyle and "real character" are the focus of all communication measures.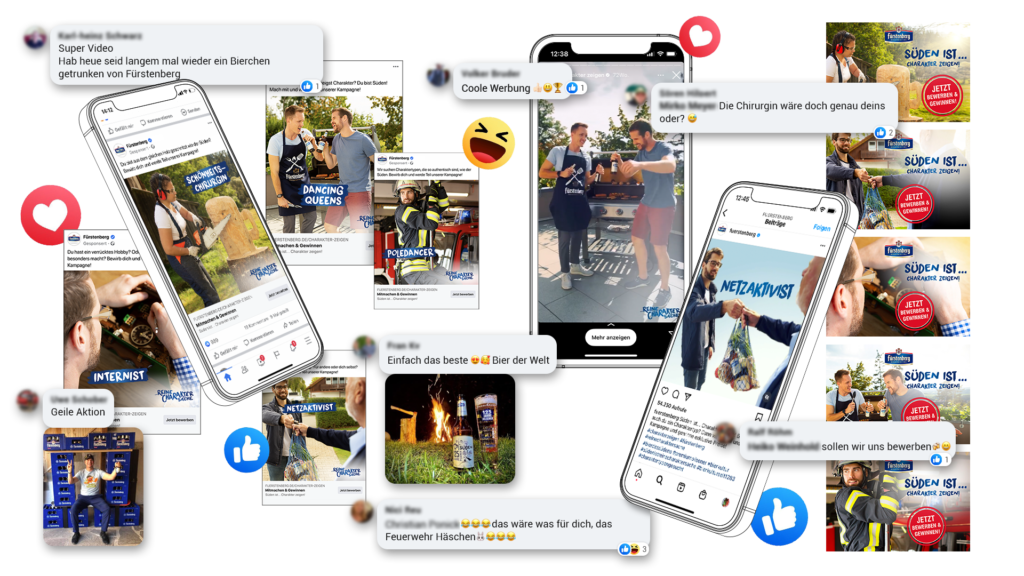 Just like the "Charakter zeigen" campaign, whose goal was to make Fürstenberg a holistic experience across all digital touchpoints:

- Social: Instagram and Facebook with inspired formats (stories, reels, carousels, instant experiences)
- Moving image content: from campaign films to surprising snippets
- Website: including a simplified registration process
- Display: Google and Teads
- YouTube marketing
- Newsletter
- etc.
Before the campaign launch, we first realized a 360.degree content production, creating platform-appropriate assets. This, along with a multi-phase media strategy including a sophisticated data and targeting concept from interaction, were central factors for the campaign's success.
With our progressive set-up, we were able to activate in a verifiable manner: cross-medial, emotionalizing, and performing. Attention-grabbing content creation combined with data intelligence, continuous monitoring, A/B testing and specific recommendations in the reporting led to the fact that communication demonstrably made a mark in the market. At the same time, the campaign celebrated outstanding resonance – from the number of applications to the enthusiastic comments of the community.